Workshops for sex workers
Upcoming events:
All workshops: sign up at pic@pic-amsterdam.com or send us a message on social media.
Workshop 'So you want to be an online sex worker?
Do you want to learn how (international) camming works, tips to produce your own porn or to bring your subscription sites to a new level? Then you should join the online workshop "So you want to be an online sex worker?" hosted by the PIC on December 7th, 2021!
The following questions will be answered, but your participation is also encouraged! You can email any questions you might have beforehand at pic@pic-amsterdam.com, and we'll make sure to answer them in the workshop!
Is there still money to be made on Onlyfans or am I too late?
Do I have to be slim to work as a cam model? What if I don't meet the beauty ideal, can I still make money?
How do I know which websites can be trusted with my data?
I don't really want to be naked at all, but I do like to play with fetishes, can I earn enough money with that? And what if I don't want to show my face?
The workshop is given by a sex worker, paralegal, host of the Onder Mijn Rode Paraplu Podcast and team-member of the PIC. She's been working as an online sex worker for the past 10 years, she cams and produces her own porn.
Workshop Banks and Crypto
This workshop is particularly interesting for independently working sex workers. What are your problems with banks? Can we somehow be anonymous with our customers' online payments? What about eg Tikkie and PayPal? And would Bitcoin be a solution?
The workshop will be given on Monday 17th of January at 17.00 hrs by a sex worker and by a guest speaker. Guest speaker Bas Wisselink has been active in the world of cryptocurrencies since 2013 and is a regular guest presenter at BNR's Cryptocast. He has been giving introductions to Bitcoin and crypto for years and teaches in an interactive way, because he believes that the technology should be used in a practical way.
In this workshop Bas Wisselink will explain the basics of Bitcoin and other cryptocurrencies and discuss how they can be used in practice. He will also pay attention to how you can ultimately convert cryptocurrencies into euros so that you also benefit from them in daily payment transactions. How do wallets work, what is the difference between the different coins, how do I make sure I don't lose them and much more.
Zine making workshop!
A zine is a self-published magazine. It can be on any topic and anyone can make one. It's a fun and easy way to collect and share your own ideas around a topic, especially topics not often seen in the mainstream. We will share our own stories, get to be creative and make a magazine, all in one go! No creative experience required; we will provide all the materials.
About us: Migle is an animator and graphic designer. She's a sex worker ally and passionate about sharing her love of zines with others. Cat is an illustrator and a sex worker, and does art direction for the sex workers' media platform Red Insight.
On the 15th of February at 14.00 hrs the PIC will be hosting this zine making workshop.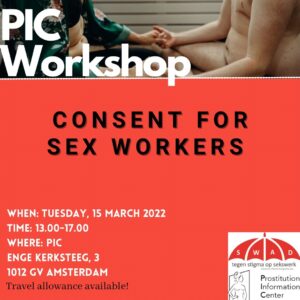 Workshop Consent for sex workers
Feeling what you want at any time is not easy. Communicating that to another person is even more difficult. Especially if sex is your job. Sometimes the customer just happens to want exactly what you want, but more often (just) not. When do you go along with a customer's wish? How much do you adapt? And when do you say no? In this workshop we will explore these questions together. The answers are different for everyone. It's about being able to make conscious choices about what to do and what not to do.
During the workshop we will do many exercises that are about learning to feel how desires and boundaries feel in your body. It's more doing than talking. The workshop lasts all afternoon, and has a leisurely pace. The only rule that will be in place before noon is: you can't do anything you don't want to.
Take with you:
something you can lie on comfortably, such as a yoga mat
a blanket
a cushion to sit on
a bottle of water
a notebook and pen
put on easy, comfortable clothes
About the workshop giver: Hi! I am Sinsia. I am an ex-escort, and now work as a sex coach in my own practice. I mainly work there with people from the lhbtqia+ community, and many sex workers. People come to me with questions about gender and sexuality, which we will explore together. Very nice work 🙂
I also work at SoaAids Nederland at the Complaints Desk for sex workers. You can go there if you have a problem with an organization. If you cannot open a bank account because you are a sex worker, for example. Or if you are treated badly by the police or municipality.In my spare time I like to hike and pick edible plants and mushrooms. I have two cats and one sweet partner. I'm in the middle of my own quest about gender, and I'm using they/she pronouns. www.thequeersexcoach.com https://www.instagram.com/sinsia.thequeersexcoach/
All workshops: sign up at pic@pic-amsterdam.com or send us a message on social media.
 Callgirls and coffee
Are you a sex worker and would you like to meet your colleagues? Then this evening is for you! Read the flyer: CallgirlsnCoffee.
Every 1st Monday of the month from 17:00 20:00 hrs
Sign up (with a pseudonym if you wish) via callgirlsandcoffee@gmail.com